Roblox is a popular gaming and online platform that is utilized by millions of people all over the world. Roblox attracts players of all ages because of its diverse selection of games. I'm here to tell you that if you've been tempted to try out Roblox at least once, you should. However, before we can start playing the popular Roblox games, we'll need to create an account. I'm here to assist you if you're unsure how to make one. So keep reading to learn how to make a Roblox account and log in to use this platform.
How to Create a New Account for Roblox Login (2022)
While I'll show you how to make a Roblox login account, I'll also show you how to unlock a locked account
Also Read – Explained How to get the free Luchador Champion avatar item in Roblox June 2022
How to Register for a Roblox Account
Creating a Roblox account is as easy as creating an account on any other site. Because Roblox requires a user login before you can access it, you'll need one regardless of your goal. I'll show you how to establish a Roblox account and log in in the steps below.
1. Go to the Roblox Sign-Up Page (visit) by clicking the link below. A table will now be in front of you.
2. Fill in the required information, such as your date of birth, username, and password preference.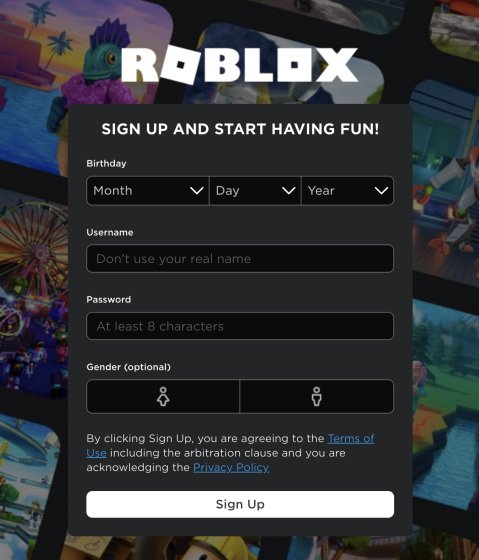 Note: As previously said, do not use your real name because it will be available to the public. Also, make sure to use a strong password that no one else can guess.
3. Once you've finished filling out the information, click the Sign-Up button to complete the procedure.
4. That's all there is to it! You'll now be on the Roblox main screen, where you can look around and play the games available.
As you can see, a Roblox login doesn't even require an email address to get started. If you'd rather join up with your phone number, skip to the next stage.
Please do not log out of your account at this time. If you forget your password, you won't be able to restore it because we didn't use an email address. Continue reading to learn how to do it.
How to Register for a Roblox Login on a Mobile Device
It's just as simple to create a Roblox account on your phone as it is on a computer. While I'll be using an iPhone for this, the processes are the same whether you're using Android or iOS. To do so, follow the instructions below:
1. Download and install Roblox from the App Store (visit) or the Play Store (visit).
2. When you first start the app, you'll be given the option to Sign-Up or Log-In. If you've already created an account in the area above, click the login button. Tap the Sign Up button if you don't already have an account.
3. Enter the information requested by the app, just as you would on a computer, and then click the Sign up option to complete the process.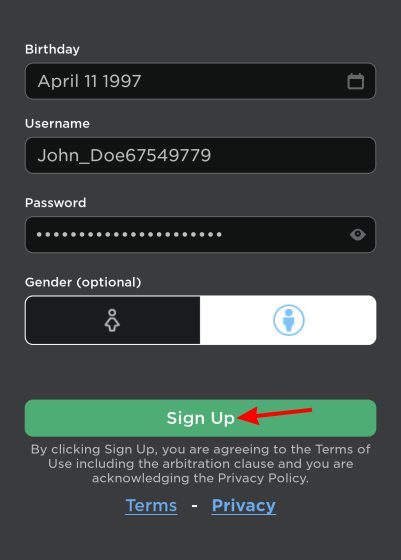 4. After that, you'll be taken to the main screen, where you can play Roblox and all of its games.
And that's how simple it is on a mobile device. Although an email address is not required to join Roblox, we urge that you do so anyway. That way, if you forget your password or something else goes wrong, you'll be able to get back into your Roblox account. Let's have a look at how to add a Roblox account recovery email address.
Add a Roblox Account Recovery Email
Your Roblox login account, like any other account, requires a recovery e-mail in order to reset your password if you become locked out. Make important to add a recovery e-mail to your account, whether you just made it or are an experienced user. To do so, follow the instructions below:
1. Once logged in, go to the account settings by pressing the Settings cog on the upper right and then pressing Settings on your computer.
2. You'll see the option to Add an Email with a warning symbol next to it under Account Info. To continue, select the Add Email option.
3. In the pop-up window, type the email address you want to use as a recovery. After that, click the Add Email option.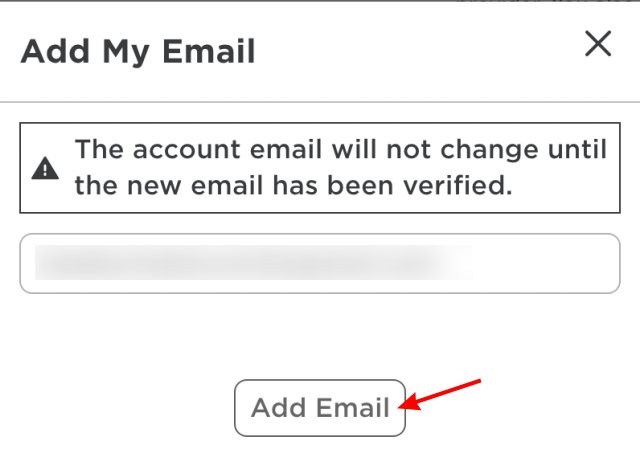 4. A confirmation notice will appear, confirming that a verification email has been issued.
To complete the recovery process, simply go to the Email account you entered and click the verification link. Once you've done that, you'll see the message below. You also get a free hat, which you may get by pressing the View Item button. Your account is now secure, and you can exit Roblox at any time.
Your Roblox Login Password Has Been Reset
It's easy to forget your passwords at any time, regardless of whatever account you're using. Don't panic if you find yourself locked out of your Roblox account. We can quickly change the password and log in again if you followed the instructions in the previous section and supplied a recovery email. To do so, follow the instructions below:
1. Go to this website. Select the appropriate tab depending on whether you've forgotten your user name or password.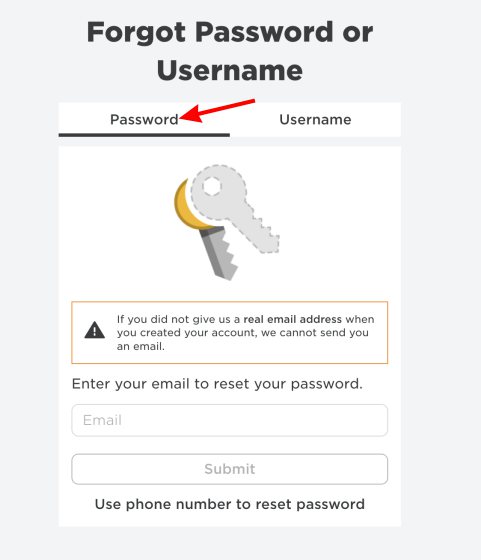 Note: If you did not supply Roblox with a recovery email or phone number, you will not be able to reset your password, as previously stated. Return to the first section and learn how to create a new account in that scenario.
3. Click the Submit button after entering your email address.
4. A pop-up will appear, verifying that a verification email was delivered. Simply go to your inbox and click the verification link that has been sent to you. After that, you'll be taken to the password reset screen.
5. To finish the process, type in your new password and click the Submit button.
That's all there is to it! You may now use your new password to connect into your Roblox account. Remember to write down your new password and not to share it with anybody! A password organiser can help you keep track of all your passwords.
Roblox is a game that allows you to explore the world of Roblox. After you've logged in, I hope you have a lot of fun exploring Roblox with your new account. If you're a seasoned Roblox player, check out these excellent Roblox scary games to spice up your life. If you're new to Roblox, stay tuned since we may be working on some helpful Roblox gaming guides. Did you have any difficulties logging in? Post your queries in the comments section below!
People also ask
Can you make multiple accounts on Roblox?
Even if you set up a Roblox account with parental settings for kids under the age of 13, they can still create several accounts on their device (known as "ghost accounts"). This implies your teen can create a 13+ account with less parental controls.
How do I create a new email on Roblox?
Altering Your Email Address
Please log in to your account.
Go to your account's settings.
Select the Account Info tab from the drop-down menu.
Select the Update Email button (which resembles a pencil and paper)…
The new address will receive an email.
Look for that email in your inbox and follow the instructions.
How many Roblox accounts can you have?
There is no limit to how many accounts you can have, but don't use more than three or four just to be safe.
How do you open Roblox 2 times?
What is the 6 digit code on Roblox?
This system needs you to enter a 6-digit security code in addition to your username and password, which we will give to you through email anytime you log in from a new or untrusted device. This solution, we hope, will make your Roblox experience safer, more secure, and ultimately more pleasant.
How do you change your age under 13 on Roblox?
It is not possible to adjust the age setting. Roblox is dedicated to ensuring that our users' safety and privacy are protected. Users under the age of 13 are unable to change their age setting due to this and COPPA rules.
How do I reset my Roblox password?
Password Alteration
Please log in to your account.
Go to your account's settings.
Select the Account Info tab from the drop-down menu.
Change your password by clicking the Change Password button (icon looks like a pencil and paper)
Put your current Roblox password in the box below.
To double-check your new password, type it in twice.