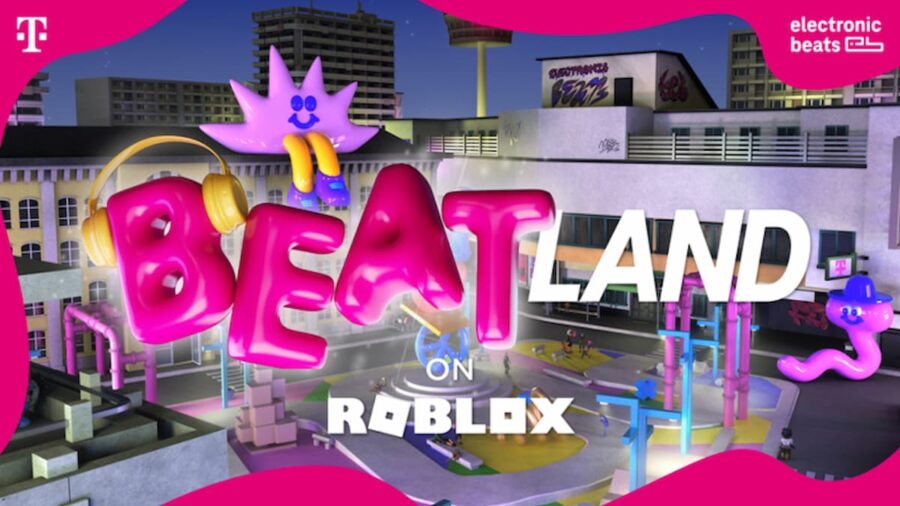 Deutsche Telekom, the parent company of T-Mobile, has extended its music marketing initiative, Telekom Electronic Beats, to Roblox in the shape of the all-encompassing, music-celebrating experience, Beatland. With this partnership, users will receive six free goods, including the Retro classic magenta boombox, We Want Peace – Sign, and others. Continue reading to learn how to unlock all of these goodies.
Obtaining free things
While there are approximately 20 Telekom-themed avatar items available to gamers, the majority of them must be acquired with Robux within the experience. All of the goods that can be obtained for free are briefly listed below, along with instructions on how to obtain them. Following that is a more detailed explanation of how to obtain these goods.
The iconic retro magenta boombox
Buy for 450 Beatcoins
We Want Peace – Purchase a Sign for 350 Beatcoins
5G white and magenta wings sketched
Buy for 500 Beatcoins
Jack Sachs' Froggy Hat
Buy for 400 Beatcoins
5G Hyperfast Dance Move Emote
Buy for 500 Beatcoins
Vinyl Record Shield Boris Brejcha
For five days, find and collect all eight BEATLAND letters.
Getting Beatcoins
As previously stated, Beatcoins can be used to purchase all of the free stuff in Beatland. Players can obtain these coins by either finding them on the map or completing tasks. Keep a look out for the coins shown below if you choose to explore for coins rather than participate in jobs.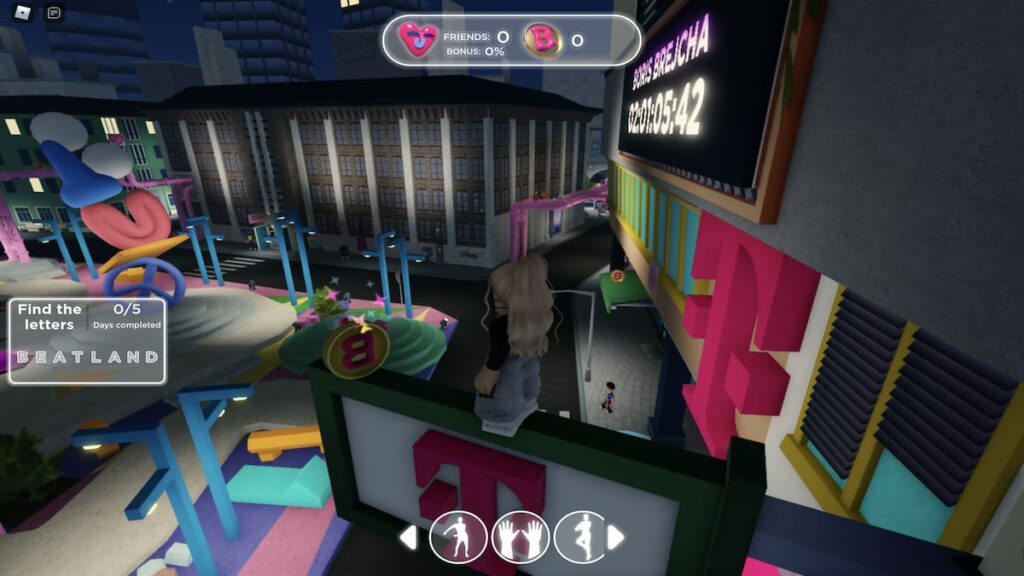 Though each tangible Beatcoin you find around the map adds two Beatcoins to your bank, you'll still need to collect about 1,500 individual Beatcoins to unlock all five of the purchasable free goodies. As a result, it may be easier to perform tasks instead (extra emphasis on "may").
To begin a task, locate and approach any light circle on the ground.
Each circle hue represents a different job. The orange circle depicted above assigns players to the position of City Janitor. To begin working, enter the circle of your choice and either Unlock Job or Take Job, depending on whether you've done it before. You'll also be able to see how many Beatcoins you'll earn for finishing the job and whether you'll have to pay any Beatcoins to complete it.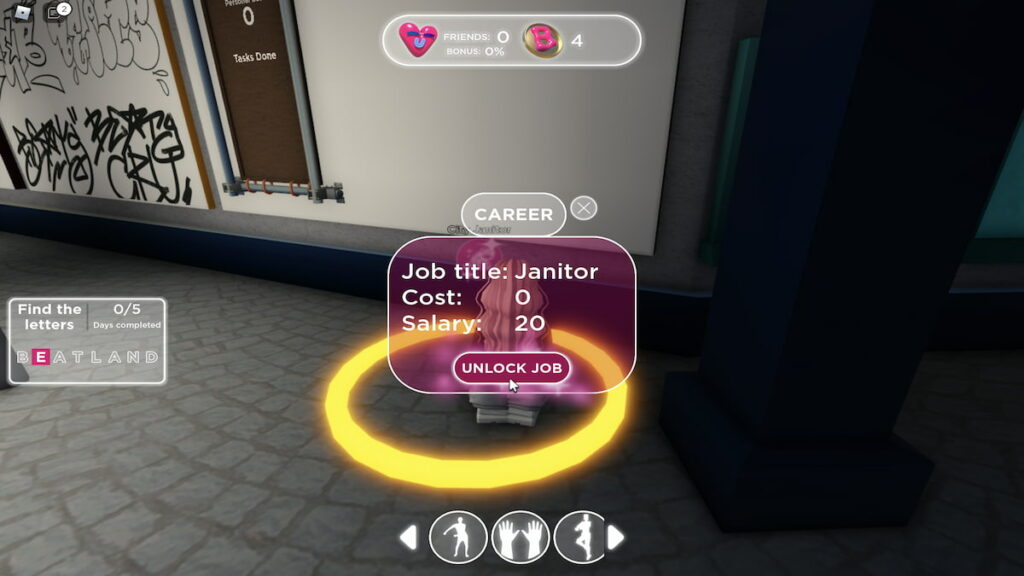 Once you've unlocked and accepted the assignment, follow the pink arrows that display on your screen to the location of your job.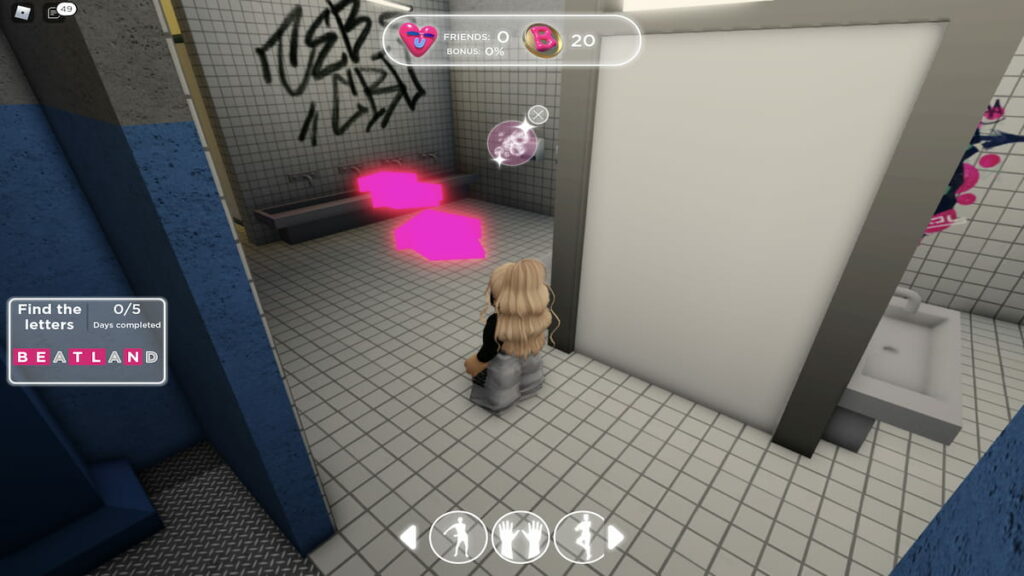 If everything is in order and there are no issues, the pink arrows should lead you to a place with a blue circle and an action prompt.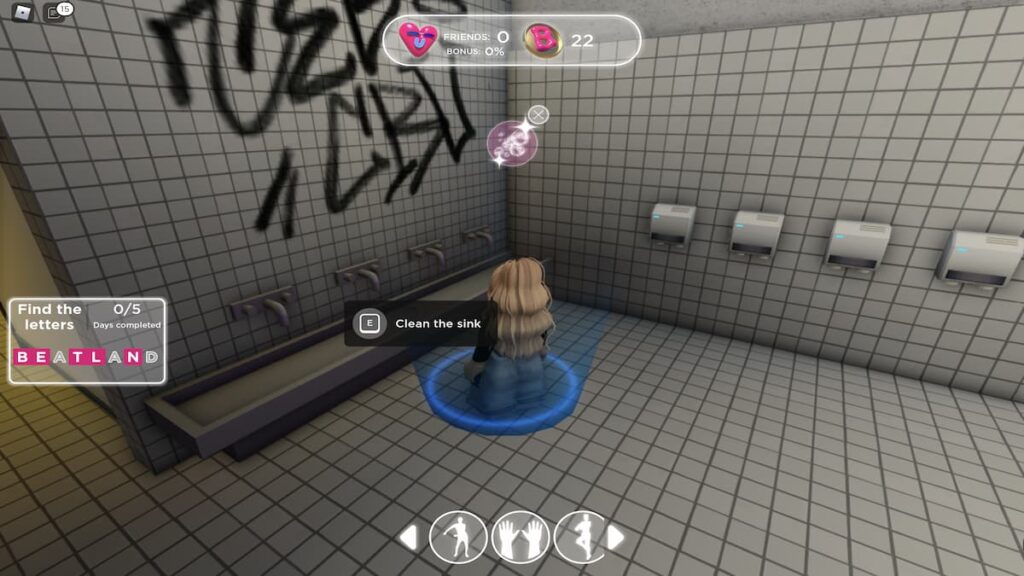 However, because this experience is extremely problematic at the time of publication, it's likely that you'll be taken to a seemingly random area with no objective and, thus, nothing to accomplish.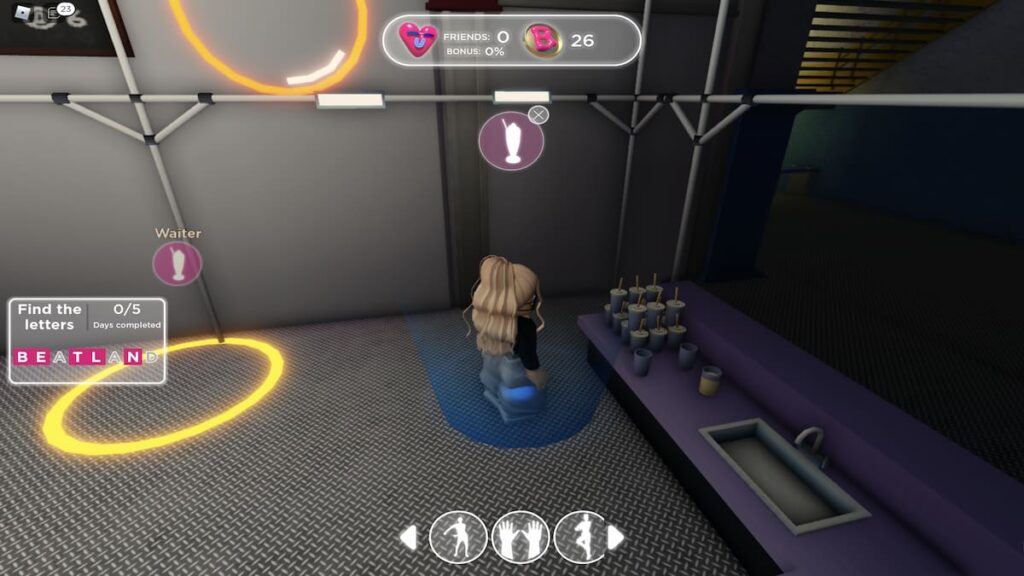 Depending on the one you choose, you'll receive between 10 and 30 Beatcoins for each job successfully completed. This means that, presuming you don't acquire a single Beatcoin while exploring the globe, you'll need to accomplish 50 to 100 jobs to earn enough Beatcoins to unlock all five of the purchasable free stuff.
Letter collection
The Boris Brejcha Vinyl Record Shield, unlike the other five free things that can be purchased with Beatcoins, can only be unlocked by those who find all eight letters that make up the phrase BEATLAND once a day for five days. At the time of publication, it was uncertain whether these letters spawn in new spots every day or if they stayed in the same places. For the time being, however, all eight letter positions can be found below, along with an explanation of each site underneath the accompanying screenshot.
Located on the balcony of the Cinema
In the vicinity of Central Park
Located on the roof of the Electronic Beats Club
On the ride side of the map, near the gated-off road.
Bathroom in the Electronic Beats Club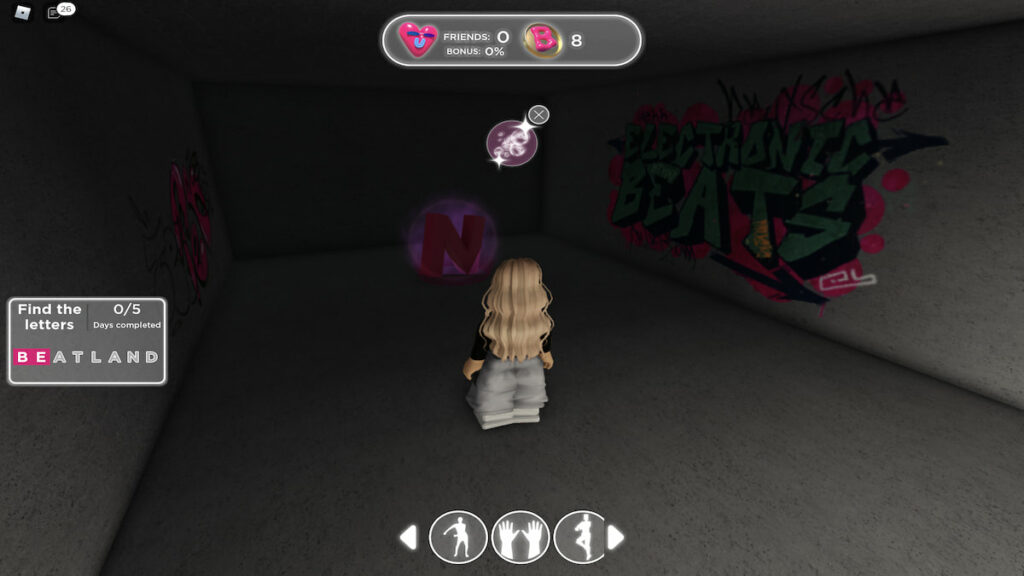 Located beside the Cinema in an alley.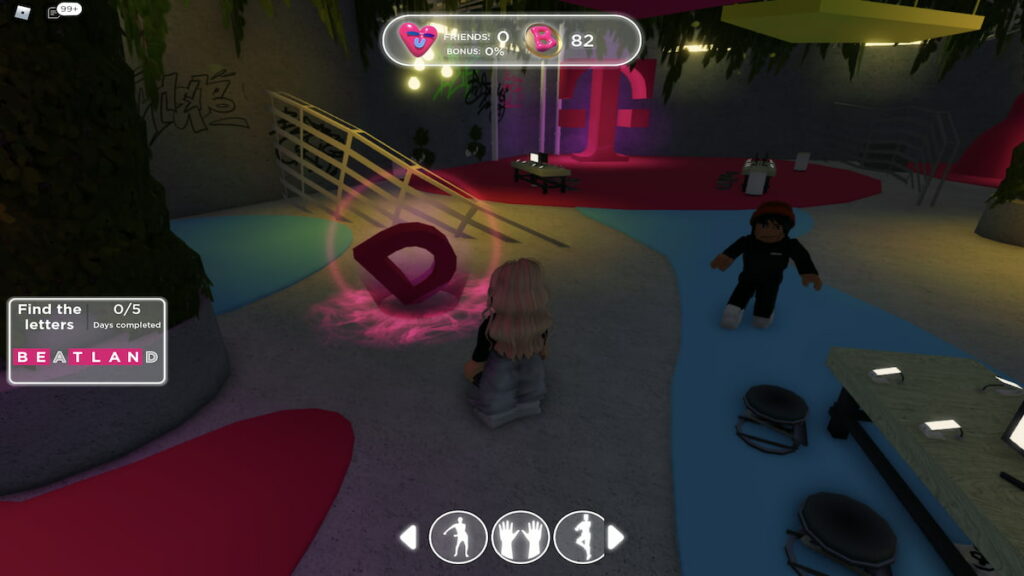 Located inside the T-Mobile store
When you find the final letter, your letter tracker on the left side of your screen will convert into a 15-hour cooldown timer. When the timer approaches zero, you will be able to find the following set of eight letters.
End
As previously stated, it appears that this experience is quite unstable for everyone, so keep in mind that you are not alone in your glitchy troubles. If you don't think these products are worth the time and work it takes to earn them, that's fine!
People also ask
How do u get free items in Roblox?
You can earn five free Roblox Avatar Shop products just by visiting each page and clicking the big green GET button.
What Roblox games can give you free items?
Here's a list of all the games where you can get free Roblox items:
Hovering UFO — Available for free with Amazon Prime.
Industry Baby Scrubs Top & Pants — On the item page, click "Get."
Golden Headphones — On the item page, click "Get."
AOTP Hat — On the Item Page, click "Get."
Happy New Year, Ox – On the Item Page, click "Get."
How do you get 2022 clock on Roblox?
New Year's Clock 2022 Pal is a shoulder item that Roblox released in the avatar shop on December 6, 2021. It may have been gotten for a limited period using a gift card.