You must defeat Draconic Tree Sentinel, a mini-boss in Elden Ring, in order to reach the Leyndell Royal Capital. However, in addition to being in Capital Outskirts, it is also present at Crumbling Farum Azula. When you defeat it, you receive a sizable number of runes, and it might even drop a dragon greatclaw and a dragonclaw shield. So let's look at how to beat the Draconic Tree Sentinel in Elden Ring in this guide.
In Elden Ring, defeat the Draconic Tree Sentinel.
Attacking the Draconic Tree Sentinel while it is getting ready for an assault will defeat it. And avoid any attacks it makes on you. Its offensive repertoire includes the following blows:
Also see – Explained Schedule & Stream – EVO 2022 MultiVersus Bracket – August 2022
Phase 1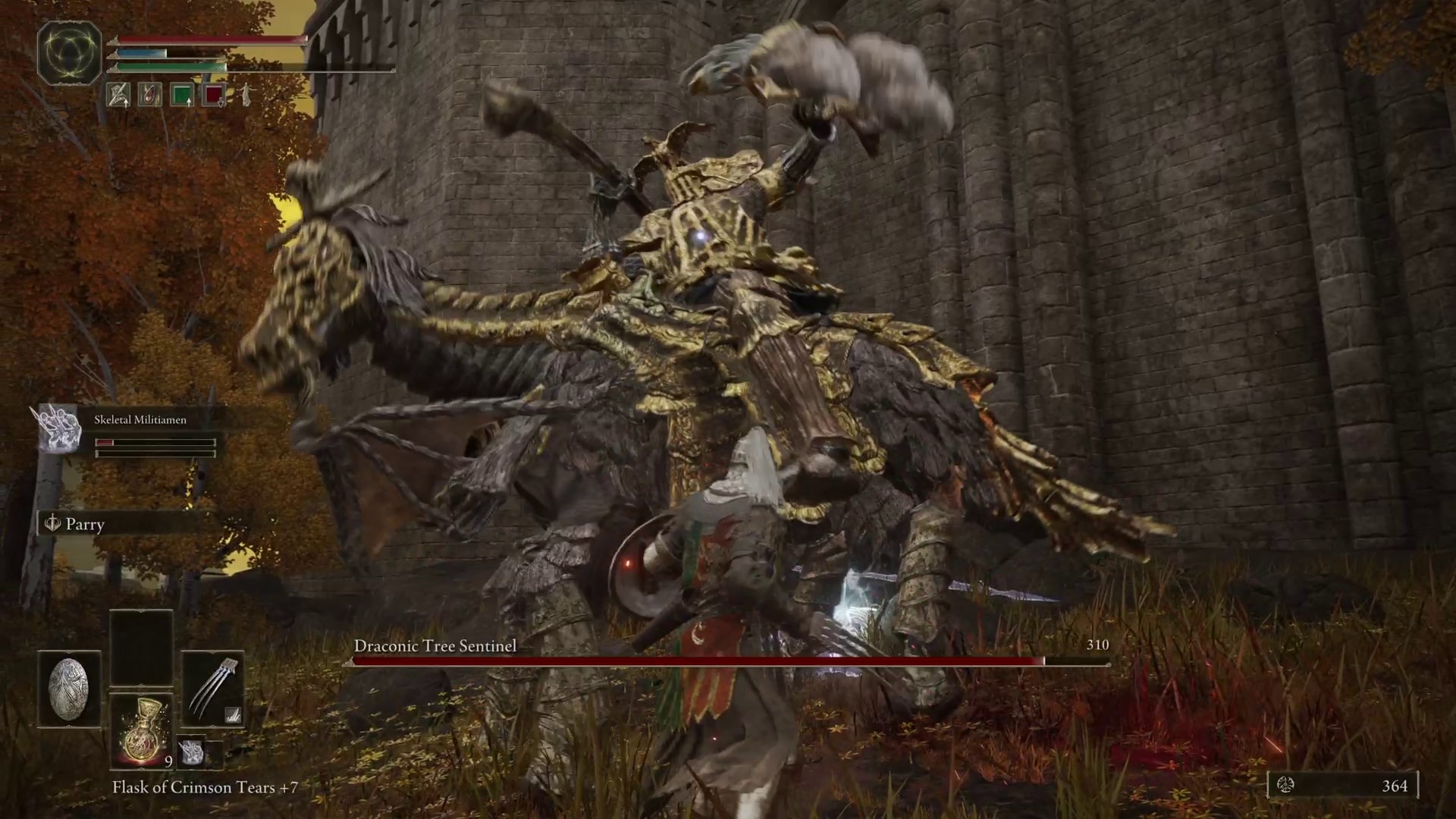 Slash attacks: The Draconic Tree Sentinel employs a number of different slash attack types. Rolling toward or away from the Draconic Tree Sentinel will allow you to avoid them. You will need to pace your dodge depending on how it swings its club and how far away you are. If you rolled forward and are in a position to assault it, do so.
The Draconic Tree Sentinel will exhale a number of columns of fire. Depending on how far you are from it, the frequency of these fire assaults varies. It's not too difficult to avoid this onslaught. All you have to do to avoid being hit is roll to either side.
Shield Strike: The Draconic Tree Sentinel will start using its shield if you try to attack it from the side. He will raise or swung the shield to the side. Rolling away from this assault will allow you to avoid it.
It will smash you to the ground by striking you with its club. A shockwave is also produced by this strike. Therefore, even if you avoid the club itself during this strike, if you are close to it you will still be struck by the shockwave. When the club is about to strike you or the ground, time your roll to avoid being hit. You'll be able to avoid the club and its shockwave if you do this.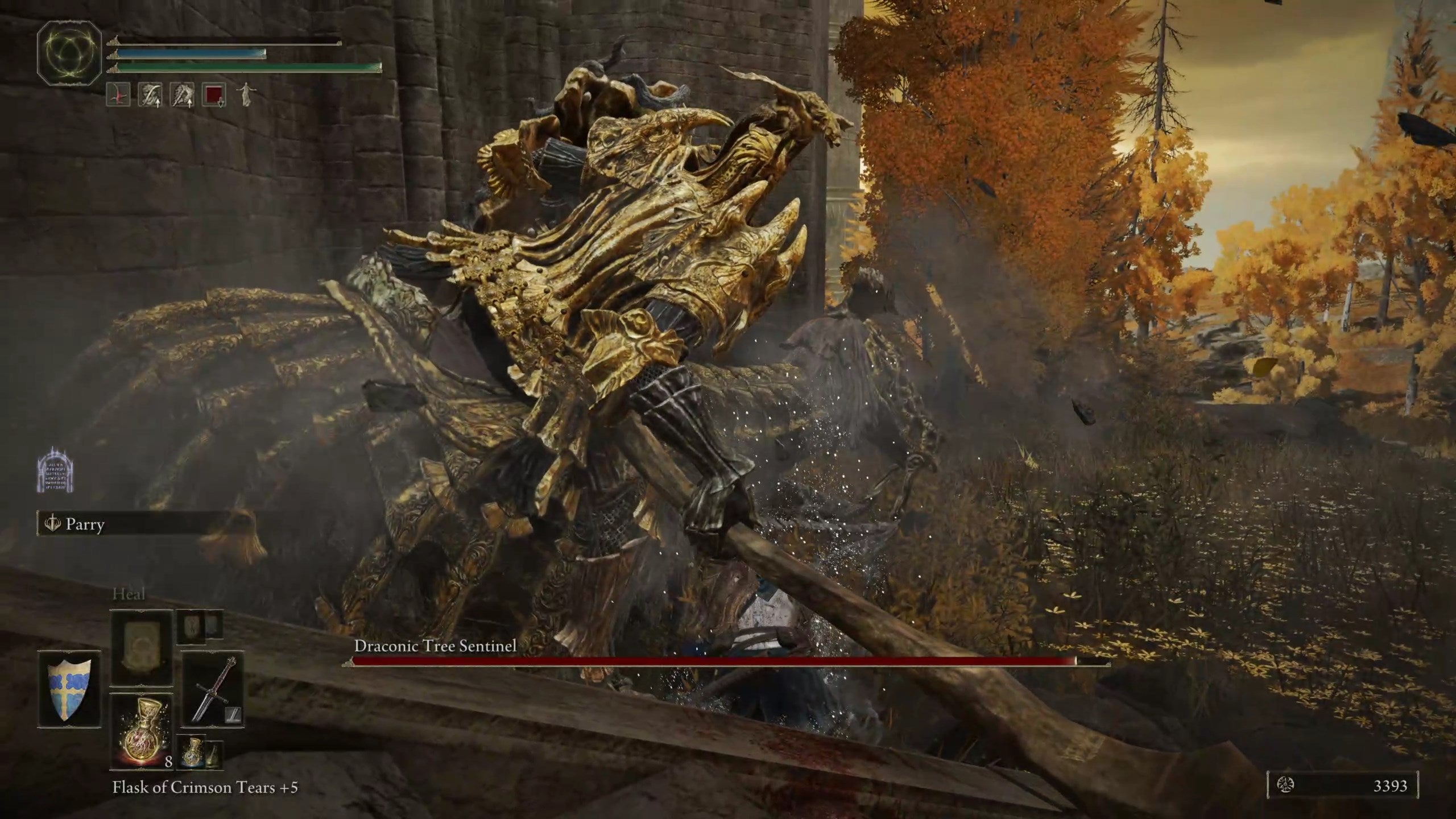 That concludes my walkthrough for taking down the Draconic Tree Sentinel in Elden Ring. You should consult our guides if you're trying to defeat various mini-bosses or other adversaries in the game.
Phase 2
 The Draconic Tree Sentinel will charge its club with red lightning after you have reduced its health to half. Its club assaults are identical to those from its opening phase. In its second phase, there is just one new move.
Lightning Strike: The red lightning from the Draconic Tree Sentinel will charge its shield. The attack will then be directed against the player. In the area where the player was last seen, a lightning strike will land. By rolling to either side before the lightning strikes, you can avoid this attack.
When the Draconic Tree Sentinel is not attacking and before it is ready to launch its next strike, keep blasting strikes. By doing this, you can gradually reduce its health and eventually vanquish it.
People also ask
Which level is required to defeat the Draconic Tree Sentinel?
Although you can battle the Draconic Tree Sentinel at the beginning of the game, it is strongly advised to do so around level 20. Use Standard and Thrust attack types to do a lot of damage in order to take advantage of the Draconic Tree Sentinel's weaknesses.
What is a weakness for the Draconic Tree Sentinel?
The Draconic Tree Sentinel is most vulnerable to strike and thrusting damage, and struggles to withstand the status effects of poison and scarlet rot. Please make use of these! Rot Grease and Poison Grease are unquestionably advantages.
Do I have to defeat the Sentinel of the Draconic Tree?
A boss in Northeast Atlas Plateau's Capital Outskirts is called Draconic Tree Sentinel. You can visit Leyndell, the Royal Capital, without defeating the boss, and you can go through Deeproot Depths by completing Fia's questline.
How difficult is Draconic Tree Sentinel?
The Draconic Tree Sentinel is a greater threat than the standard Tree Sentinel in every way. They like to employ their hammer and shield in lightning-quick attacks to overwhelm the Tarnished as well as fireballs to deal harm to the player at close to medium range.
The Draconic Tree Sentinel can bleed, right?
Draconic Tree Sentinel preparation strategies. It's important to choose your poison when getting ready for the Draconic Tree Sentinel. We've discovered that the frightening boss responds well to both bleed-based damage and poison damage, and either one or even both are totally acceptable choices.
Can Tree Sentinel cheese?
Draw the Tree Sentinel's attention then proceed to the door of the Church of Elleh to cheese it. The Tree Sentinel cannot fit inside of this archway, but it is long enough for you to stand at the opposite entrance, out of the melee area, and with the boss in your sights.